Change year
Watch the All about changing year in Monitor ERP video:
To "change year" (change to a new accounting year) is something companies needs to do when you begin a new fiscal year, in cases where the company uses the Accounting module in Monitor ERP. The changing of accounting year should be performed before you register transactions in the accounts payable, accounts receivable, and in the accounting of the new year.
You use the procedure Change period/accounting year to change year and the procedure Opening balance to load the opening balance (OB) to the new year.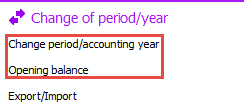 Please note! Before you start to change year, make sure you have a current and working backup copy of the Monitor database!