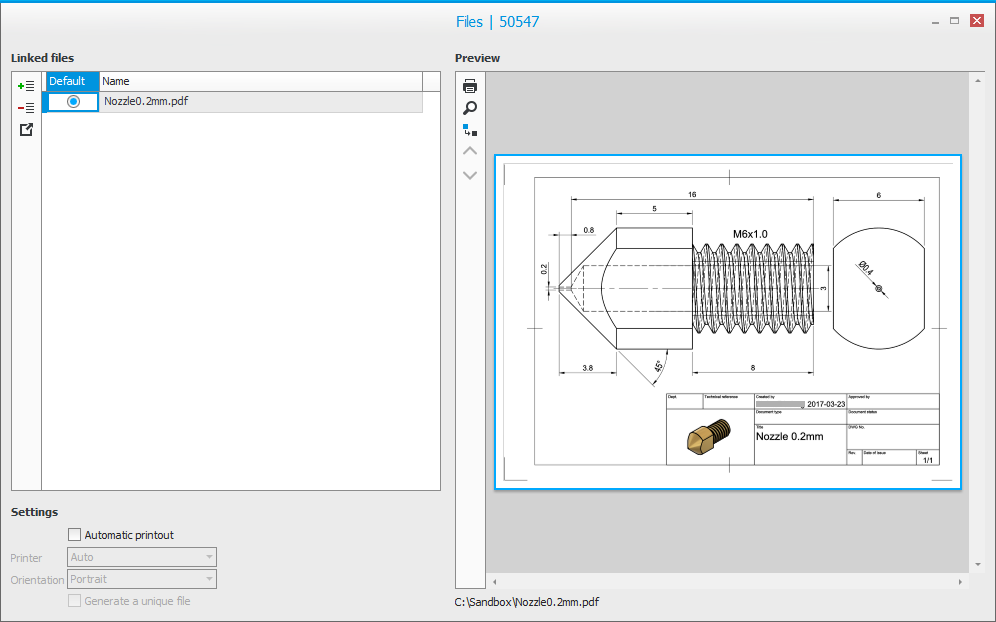 Extended file viewer
The Extended file viewer option provides system support for several different file types when you link external files to records in the database. This option supports frequently used drawing formats, image formats, and different MS Office document formats.
By using the Extended file viewer, you can preview all linked external files in their original format in a viewing window. Without the Extended file viewer, you can only view PDF files.
You can also use the function "automatic printout" for linked external files in the viewing window. This is used when handling other files than PDF files.
The handling of external files that are linked to records in MONITOR are rationalized by:
Linking the files directly in their original format without having to create PDF copies of the files and then link these.
Not having to relink a copy of the file when the original file is updated or changed.

Common Supported File Types
Drawing files vector format 2D/3D:
Name
File extension
Version
AutoCAD
DWG, DXF
2,5-14, 2000-2018
Autodesk Inventor*
IPT, IDW, IAM
-2018
Cadkey
PRT
Part File
Solid Edge
PAR, ASM, DFT
-ST6
SolidWorks
PRT, ASM, SLDDRW
-2018

* "Autodesk Inventor View" is required.
Image files raster format:
| Name | File extension | Version |
| --- | --- | --- |
| Compuserve GIF | GIF | GIF 87a/89a |
| JPEG | JPG | JFIF compliant |
| Portable network graphics | PNG | Part File |
| TIFF | TIF |   |
| Windows bitmap | BMP |   |
Office format:
Name
File extension
Version
Adobe PDF*
PDF
All
MS Office**
DOC, DOCX, XLS, XLSX, PPT, PPTX
-2016
Rich Text Format
RTF
All
Text File
TXT
ASCII, Unicode

* PDF is included in standard MONITOR G5, without having the option Extended file viewer.




** Requires MS Office with an activated license on the MONITOR server.
For more information, please contact our Sales department at sales@monitorerp.com.